WobL + Waterproof Reminder Watch
WobL+ Watch is the smallest vibrating waterproof alarm & countdown reminder watch in the world!
The WobL+ alarm and countdown watch is waterproof, a great choice for active children all year round. Small and lightweight, WobL+ is a very popular choice for women, seniors, or those with smaller wrists - or change out the band for a longer strap.
Stay on task and stay healthy with timely reminders!
Feature-rich, it is useful for reminders for timed medications, bathroom breaks, important tasks, and meetings or appointments. It is also great to assist those with visual or hearing impairment, ADHD and ADD, diabetes, and more.
The repeating countdown timer can be programmed for intervals from 1 minute up to 24 hours. Set the start time and stop time (example: from 8 a.m. to 7 p.m.) and reminder interval (every two hours). The vibration and/or audible alert will automatically signal that it's time to go to the bathroom, take a walk break, test blood sugar, drink water, or whatever reminders are needed. It's easy to erase or turn off the countdown timer when it is not needed.
It has 9 individual alarms you can program for one-time events or repeating daily or weekly events. Use the stop watch feature for sports or other occasions when you want to time an activity. Set your watch for 12- or 24-hour timekeeping.
WobL+ has a discreet audible alarm feature, BUT it is very quiet and should not be considered a loud alarm for others to hear. The Wobl+ vibration alarm is great for discreet reminders - such as, bathroom reminders in class that won't also alert classmates nearby.
WobL+ interchangeable bands are made of silicone for comfort and fit wrist sizes 4.50 inches to 8 inches. (The bands are also interchangeable with the original WobL hook-and-loop-close bands.) WobL+ has easy battery access to make changing it a breeze. Pro tip: If your watch starts alarming or vibrating non-stop and won't unlock or turn off, you need a new battery.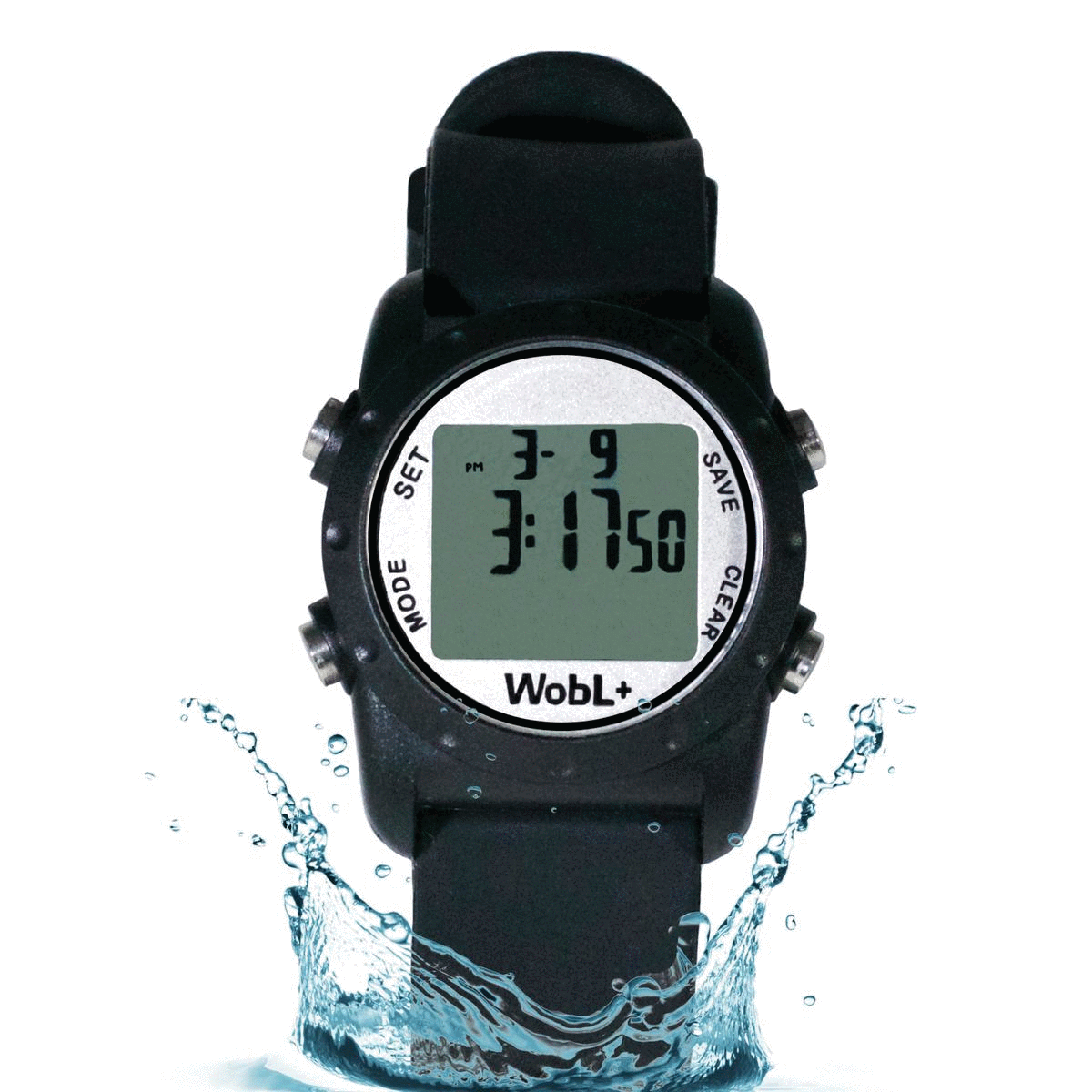 10 ATM Water Resistant — OK for Swimming; DO NOT PUSH BUTTONS WHILE SUBMERGED.

World's Smallest Vibrating Watch

Easy-to-Set Design

Repeating Countdown Timer

9 Individual Alarms

Audible and Vibration Alarms, use either or both

Day, Date, 12- or 24-Hour Format

Replaceable Silicone Band

6-Month Warranty
Compare WobL+ and WobL Models